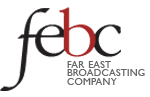 Persecution. Geography. Isolation. These three words are the dominant reasons more than 2.7 billion people around the world are kept from hearing the Gospel of Jesus.
Our mission is to develop media programming and deliver it to listeners throughout the world, moving them toward Jesus Christ.
FEBC broadcasts are heard in 100 languages and 40 countries around the world aired from 147 stations and transmitters, totaling 770 hours of programming a day/365 days a year.